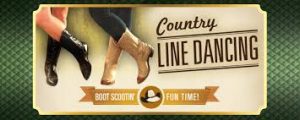 Country Line Dancing

Come and learn a dance or two.
Have a good time.    Get some exercise.
Learn a few of the more popular line dances in the country, learn them at your own pace, and get some exercise too!
You will learn each line dance step by step, and then do it to music as the instructor continues to help you through all the steps.
This is a great way to practice the line dances, plus get 30 minutes of low impact exercise and have a great time doing it!
We will be starting with the following with more to come.
Cowboy Hustle
Electric Slide
Tulsa Time
Ten Step
Sign up through programming

This class is currently restricted to Women only